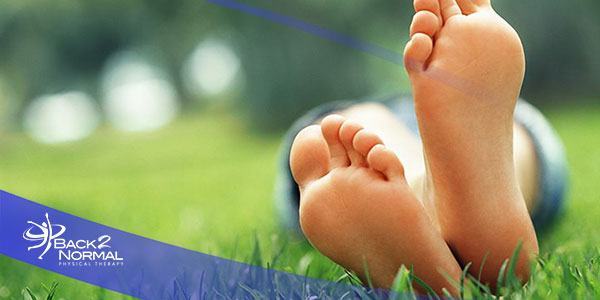 Foot health is essential to high-achieving, top-performing athletes! Your foot is a complex part of your body, built to carry your body with ease and agility. In fact, each foot is made up of 26 bones, 33 joints, and more than 100 muscles, tendons and ligaments.
Are you putting your healthiest foot forward? 

FOOT FACTS
With increased activity, sweat production can be increased by as much as 4x, leaving your feet at risk for conditions that could potentially affect your performance.
Wet feet can cause poor shoe fit, slipping in the shoe and blisters.

Damp skin is easily irritated and at risk of fungal or viral infections that thrive in moist, warm environments.

Clean, dry feet resist disease and friction related injuries.
SOCK SELECTION
Socks are an often-overlooked piece of equipment. They provide an athlete with function, comfort, and the potential to prevent injury. Sock technology helps control moisture, dissipate heat, provide cushion, shock absorption and resists friction.
Prioritize fabrics with properties that help to "wick" moisture away from the feet.

Avoid 100% cotton socks, as they may cause friction and blisters.

Seek professional assistance in selecting the best socks by examining all factors: shoes, foot type, competition surface and environment.
PROPER SOCK FIT
Ensure that you are wearing the correct size sock and that the sock actually fits your foot properly. When pulled up to the "fit" position look for the following:
The sock should meet the toes, not squash them and not dangle beyond them.

The curve and seams of the heel of the sock should meet the heel, not pulled too thin and tight under the heel and not excessive bulk or wrinkling.

The collar of the sock should sit in a comfortable position, typically not directly over the ankle bones where it could rub and it should not be too tight on the leg creating demarcation lines.

There should not be any wrinkles within the sock over the top, bottom of foot including toes or heel.
VoxxLife Athletic Stasis Socks will take your athletic performance to new levels. With the best finish and greatest feel of any socks you have ever worn, VoxxLife socks provide an incredible fit along with all performance benefits of Voxx HPT technology. Available in knee-high, mini-crew and no-shows you can have the right Stasis socks for any activity.
Voxxlife Human Performance Technology (HPT) instantly improves and up-regulates a user's neurological function – producing an improvement of 31% in lateral stability, dynamic stability and balance – while likewise contributing increases in strength, energy, velocity of force, and range of motion (ALL) in about 7 seconds. Voxxlife optimizes a user's neurology, fixes neurological dysregulation, and reboots the many networks (pain, anxiety, default mode etc) within the user's brain.
SHOE STATUS
Your low back pain or achy knee might be related to your sneakers. Inadequate support of your feet will affect your lower extremity biomechanics, which can lead to imbalance and dysfunction. Choosing the correct shoe for your foot type and activity could be the difference between being plagued with injury and being injury free. Good, well-fitting shoes can prevent injury and enhance functional performance. If shoes are ill-fitting or worn-out they can actually create injuries and will negatively affect performance.
Discard or donate any shoes that:

You have not worn in over a year as you likely will not use them again, (except seasonal shoes/boots).

You don't wear often because they are uncomfortable, cause blisters, or make your feet hurt.

Have lost the protection of the upper because of holes, split seams, or other damage.

Are held together by tape, glue, or other self-remedies.

Check the outsoles of your shoes for wear patterns. If the tread of the outsole is worn smooth under heavy weight-bearing areas such as under the ball of the foot and the heel, you need to have the shoes re-soled or discard them.

Check the midsoles of your shoes for compression. If the midsole material is heavily creased, flattened, or very flexible it has probably "bottomed-out" and should be discarded.

Court-sport shoes typically wear through the outsole first – inspect them every couple of weeks.

Field shoes such as cleats typically wear through the upper first – inspect them after every match/game.

Running shoes may wear out the outsole and midsole at the same rate but it is not unusual to see the midsole wear out first. Start checking your running shoes for wear and tear after 2-3 months or 300 miles. Running shoes typically do not last more than 500 miles.

High quality casual and dress shoes will wear through the outsole and can be re-soled by a cobbler for a reasonable price. If the shoes are comfortable and fit well, it is worth the effort to re-sole them.
HEALTHY FEET HOW-TO
✓ Wash your feet frequently with soap and water, dry thoroughly in between toes.
✓ Always wear shower shoes (flip flops) in public areas and avoid walking bare-footed at all times.
✓ Allow shoes to dry between use.
✓ Remove your orthotics and allow them to dry thoroughly between uses.
✓ Wear dry socks for practice, competition and post training.
✓ Change into dry socks during competition such as during a tennis match, if you sweat heavily.
✓ Replace your shoes often. Have at least 2 pairs of shoes and orthotics, in good condition, at all times. See below for more specific guidelines.
✓ Check all new shoes for fit, even if they are the same model.
✓ Always check the inside of shoes for seams or areas that may cause irritation.
✓ Keep corns and calluses trimmed to prevent pain and possible blisters.
✓ Remove a small amount of callus on a frequent basis.
✓ Every athlete should have her own callus shaver and foot care tools.
✓ Talk to your therapist at Back 2 Normal for assistance in obtaining callus shavers and their proper use.
✓ Trim toenails straight across so they do not extend beyond the tips of the toes to avoid ingrown nails.
✓ Do not use the same clippers on normal and abnormal nails to avoid spreading the infection.
ESSENTIAL OILS TO THE RESCUE
Swollen, sore, and achy feet can be a real pain, but essential oils can help you recover, renew, and get you back up and moving quickly.
Make a soothing essential oil foot bath. Add soothing Epsom salts and 10-12 drops of your favorite healing essential oils to warm water and soak feet for 20-30 minutes.

Make an antifungal foot roll on or spray by combining 35 drops Melaleuca essential oil with 8 drops Lavender essential oil in a glass roller bottle or spray bottle and apply topically to affected areas between the toes and around toenails. You can also spray shower sandals and tennis shoes to eliminate odors and prevent bacteria from growing.

Apply essential oils for topical relief. Mix 3-4 drops of your favorite healing oil with a tablespoon of carrier oil and massage into your feet. Try any of these essential oils for relief:

Peppermint essential oil provides a calming cooling sensation that can help get quick relief, and has anti-inflammatory properties so when applied topically can reduce the pain from swelling. It also has antimicrobial properties so it is great at relieving pain from athlete's foot and can help keep feet smelling fresh.

Eucalyptus essential oil has both cooling and anti-inflammatory properties which can relieve the pain of tired feet. Eucalyptus also relieves stress and tension and is an analgesic so it can help numb the area. It also works to combat athlete's foot and leave your feet smelling fresh.

Rosemary essential oil is great for muscle and joint pain. It can help improve circulation and reduce the pain associated with arthritis. It is especially effective when combined with the cooling power of peppermint or eucalyptus essential oils.

Rose Geranium essential oil is great for treating any kind of skin ailments. So if your feet are calloused, sore, or have open wounds, it is great for treating these issues and reducing pain. It also helps promote the development of new cells so it can work to keep your feet feeling soft and youthful.

Lavender essential oil is the most calming essential oil. It helps relieve muscle and joint pain, and it also helps heal various skin conditions. It is both an analgesic and anti-inflammatory, so it has powerful pain relieving properties. Lavender also has antidepressant properties so it can also help you relax so you can begin the healing process.

Lemongrass essential oil or Basil essential oil is effective for tendon and muscle support.

dōTERRA Deep Blue essential oil blend is unbeatable for pain relief!
Top quality essential oils are key to enjoying the health-boosting benefits of essential oil therapy. Every batch of dōTERRA essential oils is subjected to the CPTG Certified Pure Therapeutic Grade® quality protocol, ensuring potency, purity, and consistency batch to batch. dōTERRA sources their essential oils from growers across the globe who use a distillation process of low-heat steam distillation or cold extraction for select essential oils. Their global botanical network encompasses farmers and distillers in 40 different countries. Learn more and choose from a variety of oils, blends and holistic health essentials here.
Are you putting your healthiest foot forward? Seek advisement with our athletic performance and recovery specialists, and let us guide you with the most effective practices to keep your feet healthy, happy and functioning their best. We offer a wellness-focused & supportive environment that can help you achieve your goals. Be sure to check our social media and blog updates for regular wellness inspiration, information, offers and support.
The Back 2 Normal blog is an educational resource written by Back 2 Normal employees and professional associates. Back 2 Normal bloggers are professionals who abide by the code of ethics outlined by their respective professional associations. The content published in blog posts represents the opinion of the individual author based on their expertise and experience. The content provided in this blog is for informational purposes only, does not constitute medical advice and should not be relied on for making personal health decisions.