pain and injury management
At Back 2 Normal Physical Therapy, we are committed to providing extensive one-on-one care, catering to your needs. We provide a restorative environment with treatments and services that honors a philosophy of treating you as the whole person, and we understand that many things can impact a person's ability to recover and optimize their health. We are invested in listening to you through our comprehensive approach to help detect the true cause of injury or illness.
We take into account the subtle balance that exists within your body and develop a treatment plan, which collaborates with fitness specialists and health/medical providers to help get you "Back 2 Normal". Our therapeutic technologies, coupled with skilled hands-on physical therapy treatments and movement re-education strategies, help accelerate healing with excellent clinical outcomes.
the right combination for getting results
Emerging evidence suggests injury risk is dependent on a number of factors or causes,, and the traditional approach to treating your injured body part alone does not address the complex factors involved in creating the injury and limiting recovery.
We believe that our specific combination of advanced rehabilitative services, developed through years of clinical experience, critical analysis and application of research-supported models, has a powerful effect and leads to:
Rapid pain reduction and recovery from injuries

Fewer incidences of future injuries

Improved efficacy of conditioning strategies

Enhanced sports and activity performance

Overall well being and total body balance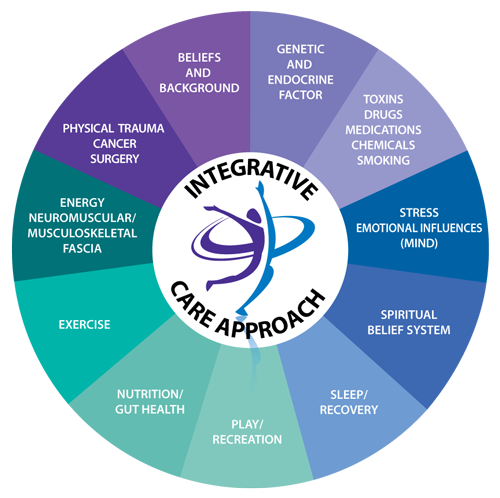 Our conclusion, based on over 25 years of clinical experience, is that most individuals are evaluated by physicians and therapists utilizing the traditional medical model, which focuses on assessing and treating only the injured body part. While this can certainly be valuable for short term improvement of symptoms, its efficacy can be limited for sustained and rapid pain relief, as well as prevention of future injury.
Our model consists of an innovative, eclectic and holistic approach to evaluate and treat individuals, which includes:
Comprehensive orthopedic assessment

Assessment of global movement patterns

Assessment of spinal and joint movement patterns

Assessment of soft tissue patterns
Daily living, work and sports performance application

Nutrition & health coaching

Stress reduction strategies

Collaboration with other health, fitness and medical experts, as needed
Headache/TMJ Pain

Neck and Back Pain

Abdominal/Rib Pain

Shoulder/Elbow/Wrist

Hip/Knee/Foot
Whiplash/Auto Injuries

Pre/Post-Surgical

Osteoporosis

Fibromyalgia

Myofascial Pain Syndrome
Abdominal and Rib Injuries

Vestibular Rehab/Balance Training

Scar Management

Pelvic Health
Whether you are a stay-at-home mom, tri-athlete or business executive, injuries can have a profound impact on your life, often limiting your ability to exercise, participate in sports, or perform daily and work activities. We are invested in being your health advocate. Let our expertise work for you, and get you Back 2 Normal.
Come Experience The Difference
To get back to being you, feeling pain-free, performing at optimal levels, and having the energy you desire, 1. Book a consultation with us online 2. Discuss a plan with your therapist 3. Receive your therapeutic approaches and work on building total-body wellness.