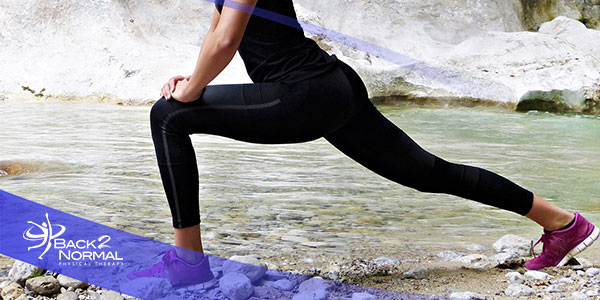 Let's face it – prioritizing recovery into an already busy day can be difficult to "justify"… At Back 2 Normal, we often say recovery is the "low hanging fruit" that everyone tends to neglect.
Recovery is crucially important for performing your best.

That's why our team of professionals at Back 2 Normal not only focuses on helping you heal and eliminate pain, we also help our clients prioritize proper recovery to avoid dysfunction that can lead to recurrence of pain and injury.
Recovery comes in many forms, and should be implemented according to your level of activity and schedule.
Recovery varies from person to person. But let's be clear – a day off, spent lying around or completely sedentary, does not qualify as "recovery." Movement is a major factor in many recovery methods, and activities such as walking, biking, yoga, swimming, etc can be restorative if done at the appropriate intensity. Your body recovers more effectively and efficiently with increased blood flow and circulation. Whether you choose to move your own body, or recruit the pros, such as with therapeutic massage or physical therapy, prioritizing recovery should be top of mind, for both the athlete and weekend warrior alike.
Your Back 2 Normal team of professionals knows the importance of recovery.
We specialize in a wide variety of modalities to help you optimize your health, and reduce the recurrence of pain or injury using specialized recovery strategies. Massage, stretching, cupping, aromatherapy, percussion therapy, and autonomic system reset (to improve sleep and digestion) are a sampling of the services and therapies offered – alone or in combination – to help you recover quickly and safely, and ultimately, to get you back to doing the things you love!
Ready to recover well, so you can perform your best? Seek advisement with our specialists, and let us guide you with the most effective practices to help you develop the best rest & recharge routine for your unique needs! We offer a wellness-focused & supportive environment that can help you achieve your goals. Be sure to check our social media and blog updates for regular wellness inspiration, information, offers and support.
Contributing Author: Anika Arevalo, PT, DPT, Physical Therapist & Pelvic Health Specialist 
The Back 2 Normal blog is an educational resource written by Back 2 Normal employees and professional associates. Back 2 Normal bloggers are professionals who abide by the code of ethics outlined by their respective professional associations. The content published in blog posts represents the opinion of the individual author based on their expertise and experience. The content provided in this blog is for informational purposes only, does not constitute medical advice and should not be relied on for making personal health decisions.