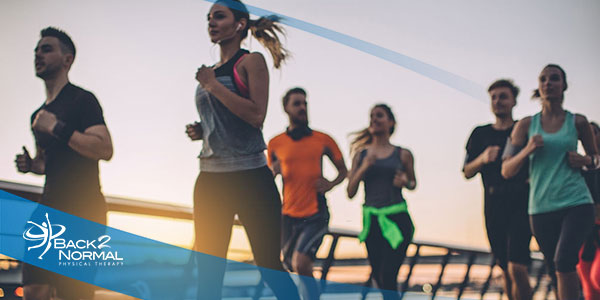 RACE WEEK PREP: 1-2 Weeks Prior to Event

Taper Your Workout
Taper your training the week prior to your race.

Avoid heavy strength training, speed work, plyometrics, or tough cross-training.

Don't add any new types of training you have never done before such as CrossFit, Orange Theory, or Zumba.

If you regularly do this during the week, try to swap one of these days for a rest day or light activity such as walking, ElliptiGO, or swimming.
Boost Recovery and De-Stress Your Nervous System
Make sure you are getting in some extra stretching or foam rolling this week.

Have a massage to release tightness or soreness in muscles. However, the week prior to your race, limit deep muscle work unless you are used to having this kind of bodywork prior to a race. Deep muscle work may cause muscle soreness and could affect how your muscles perform on race day.

Consider having an AromaTouch massage with therapeutic essential oils which help reduce stress, decrease pain and muscle soreness, boost immunity.

Use therapeutic essential oils to reduce muscle soreness and calm the mind and body.

Incorporate Bemer, Neubie Master Reset, or other technologies that help improved blood flow, oxygen, and nutrient to cells and calm your nervous system.
Hydrate, Hydrate, Hydrate
It is important to stay well hydrated before a race. Monitor the color of your urine and target to keep it pale yellow. You don't want to start race day dehydrated.

If you have a history of cramping, add some electrolytes such as Gatorlytes to your water and sip throughout the day. You can also salt foods to get extra sodium into your diet.
Adjust Your Nutrition to Maximize Performance
3 days prior to the race, increase your carb intake to about 70-80% of total macros.

Keep high fiber foods low the day before and the day of a race to avoid an upset stomach.

Limit sugars and spicy or new foods/supplements that may cause an upset stomach.
Get Connected! Scope Out Race & Your Environment
Connect to the race event via social media.

Get familiar with the course, water stations, and bathrooms.

Find out about expos, athlete services such as the recovery zone, packet pick-up times, road closings, and parking. The better prepared you are the less stress you will experience on race day.

If traveling out of town for the race:

Check hotel surroundings, grocery stores, gym locations, massage or medical services.

Check the weather so you come prepared (and pack for potentially hotter or colder conditions than expected).

Prepare a travel kit (blister pack, snacks, drinks, massage stick, etc.).

Arrive early to acclimatize if needed.

Bring compression socks and wear them while traveling.

Stay well hydrated when traveling.
Get Your Zzzs 
Make sure to go to bed early starting 2 days before the race! The night before a race we typically don't sleep well as we are thinking about the race and have to get up early for race day.

Incorporate Bemer or Neubie Master Reset.

Try meditation or restorative yoga before bedtime.

Take an Epsom Salt bath with essential oils that calm the body and mind, such as lavender or cedarwood.

Use soothing essential oils in a diffuser next to your bed or directly on your body to deepen your slumber.
NIGHT BEFORE
Check the weather so you can adjust clothes if needed.

Lay out your clothes for race day and get all your nutrition together.

Have your yoga mat set up with a foam roller/massage stick to complete any preparation you may need to do prior to leaving your house.

Eat a solid meal with 70-80% carbs and hydrate well.

Take a hot shower or Epsom salt bath with essential oils, stretch, and get to bed early.

Make sure you fully charge your phone.
RACE DAY – LET'S DO THIS!
Give yourself enough time to prepare, eat/drink, warm-up, get to race, park, etc.

Go to the bathroom before getting to the start line.

Kill it!
RECOVERY POST-RACE
Day of the Race, Post-Run:
If available, try whirlpool, cryotherapy, Normatec compression boots, Bemer, massage – focused on legs, hips, and low back.

If experiencing an injury or pain post-race, get help from a physical therapist or athletic trainer as soon as possible

Keep moving throughout the day. Don't just sit on the couch or lay in bed. Moving gets the lactic acid out of the legs post-race.

Take a hot shower and get in a good stretch. Use foam roller/massage stick.

Ice any area that is sore or painful.

Visit the Back 2 Normal Recovery Zone services at the event. Post-race services are complementary to runners!
The Week Following Your Race, Rest & Recover:
Scale back your running for 1-2 weeks out, especially if your recent event was a half marathon or greater. This is the time period where runners often injure themselves as they jump back into running earlier than they should. Take this time to cross-train with yoga, Pilates, swimming, biking, etc. Then, steadily and slowly increase your mileage to get back into running.

Get a massage or two. Bodywork is super important post-race to help decrease muscle tension.

Incorporate Bemer, foam rolling, cryotherapy, other recovery strategies.

Get extra sleep and listen to your body. This is the time to rest, recover, and let your body heal.

Set a realistic schedule for your races over the next few months. Give your body time to heal and train in between competitions to avoid injury. Don't just sign up for another race because you have the runners high or your friends want you to join them at their next race.

Address injuries, pain, or muscles that you just can't stretch out. Get help from a physical therapist or athletic trainer as soon as possible.
Contributing Author: Lisa Chase, PT & Owner of Back 2 Normal
The Back 2 Normal blog is an educational resource written by Back 2 Normal employees and professional associates. Back 2 Normal bloggers are professionals who abide by the code of ethics outlined by their respective professional associations. The content published in blog posts represents the opinion of the individual author based on their expertise and experience. The content provided in this blog is for informational purposes only, does not constitute medical advice and should not be relied on for making personal health decisions.