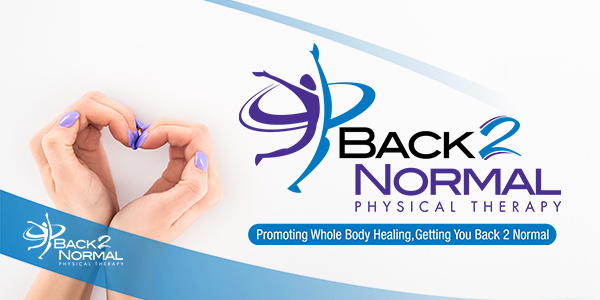 Our vision at Back 2 Normal is "Promoting Whole Body Healing, Getting You Back 2 Normal."
What is "Whole-Body Healing"? 
It's a unique approach to wellness that addresses the underlying factors limiting or preventing you from being your healthiest, most vibrant self!
Through the collective experience of our highly-trained team, we listen with empathy as we evaluate you as a whole person. We facilitate your healing through innovative manual therapy, technology, movement, and education. We inspire self-care through love and encouragement.
To elaborate, below are some of the highlights of what truly sets us apart, to support you in optimizing your health, performance, and recovery – to ensure you thrive in daily life and beyond!

We listen with intent.
The mystery is in the history – and we take time to listen and ask the right questions. Finding the various links to why someone has pain gives the greatest chance for success. Our experts look to find the connections; for example, a hip injury may actually stem from poor mechanics of the foot, the lack of stability in the shoulder may affect neck pain, the low back pain may be coming from workstation ergonomics, foods may cause inflammation that is causing pain, heavy metals may cause neurological changes, etc.

We dig deeper for root cause.
Symptoms are a signal, but they often do not identify what is causing the obvious issue. Your body is an intricate system, and we must address the connections beneath the surface to fully support rebalancing and healing.

We support the whole you.
Our whole-body healing appraoch takes into account numerous aspects beyond the injury or pain, and assesses critical factors such as stress, sleep, environment, nervous system health, gut health, nutrition, and more.

We prioritize effective interventions.
Game-changing therapies, treatments, and technologies developed based on verified, leading research are an integral part of ensuring you get results. We integrate assessments and applications such as HRV, Neubie, Biomat, Bemer, Heart Math, TheraBody, and beyond.

We work as a team.
Our highly-skilled team of professionals, in partnership with an external network of trained, compassionate practitioners, doctors, and healers, supports you as a cohesive unit to ensure you receive superior care and unparalleled outcomes.
The Back 2 Normal blog is an educational resource written by Back 2 Normal employees and professional associates. Back 2 Normal bloggers are professionals who abide by the code of ethics outlined by their respective professional associations. The content published in blog posts represents the opinion of the individual author based on their expertise and experience. The content provided in this blog is for informational purposes only, does not constitute medical advice and should not be relied on for making personal health decisions.