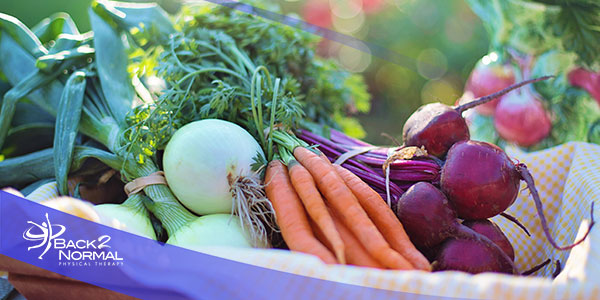 Including a variety of veggies in your daily diet is extremely important. Vegetables are incredibly rich in nutrients and antioxidants, which improve your health – inside and out! The unique blend of vitamins, minerals, phytochemicals, antioxidants, and other nutrients specific to each vegetable can help protect your body from disease (in addition to making your brain sharper, heart stronger, and skin healthier). The fiber from veggies can help lower cholesterol and keep you full longer, too.
Here are 10 tasty tips to get more veggies into your diet!
1. Blend beets into brownies.
Beets add moisture and even more decadence, sans any beet flavor, to an already delicious dessert.
2. Mix cauliflower into scrambled eggs.
Steam and purée or finely grate cauliflower to mix with scrambled eggs. Try it with chicken or tuna salad for a full entrée.
3. Add greens to smoothies.
A handful of organic spinach blends well in any smoothie. Try the classic Green Monster by blending 1 cup non-dairy milk, 1 frozen banana, 2 handfuls organic spinach, and 1 tablespoon almond butter.
4. Mask more than one in muffins.
Breakfast treats can be packed with veggies, too. Try making some muffins packed with zucchini and carrots, in addition to the classic raisins, walnuts, and cinnamon.
5. Experiment with veggie noodles.
Use a spiralizer or julienne peeler to create zucchini, squash, asparagus, or cucumber noodles; or roast spaghetti squash – and skip the pasta altogether.
6. Sub greens for wraps.
Lettuce makes a surprisingly awesome stand-in for the typical tortilla wraps. For tougher greens like collards, kale, or chard, blanch the greens and pat dry before wrapping.
7. Mix 'em into meat.
Steamed and chopped, or puréed veggies (mushrooms, carrots, sweet potatoes), are a perfect addition to burgers and meatloaf.
8. Turn them into fries. 
Slice zucchini, avocado, carrot, or green beans, lightly coat with almond flour breading, and bake until crispy.
9. Cook up crunch kale chips. 
Toss leaves in avocado or coconut oil, sprinkle with sea salt, and bake until crispy. Kale chips are a great (and much healthier) stand-in for chips.
10. Whip avocados into pudding.
Add silky texture and a beneficial nutrient boost to chocolate pudding by blending in avocado. (Avocados are technically a fruit, but they're a superfood, just the same.)
Hungry for more nutritional inspiration and insights? We offer a wellness-focused & supportive environment that can help you achieve your goals. Be sure to check our social media and blog updates for regular wellness inspiration, information, offers and support.
Contributing Author: Jillian Warwick, Certified Nutritional Therapy Practitioner & Registered Yoga Teacher 
The Back 2 Normal blog is an educational resource written by Back 2 Normal employees and professional associates. Back 2 Normal bloggers are professionals who abide by the code of ethics outlined by their respective professional associations. The content published in blog posts represents the opinion of the individual author based on their expertise and experience. The content provided in this blog is for informational purposes only, does not constitute medical advice and should not be relied on for making personal health decisions.