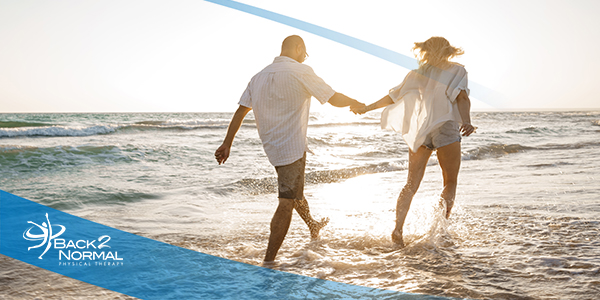 Physical therapy plays a crucial role in restoring and maintaining our physical well-being, but not all physical therapy studios are created equal. 
Back 2 Normal Physical Therapy sets itself apart from the rest as a game-changer in the world of physical therapy with a focus on whole body healing.
➡ Holistic Approach to Wellness
Back 2 Normal doesn't just focus on treating symptoms; we're dedicated to improving your overall well-being. Our holistic approach to physical therapy integrates various disciplines, such as physical therapy, neuromuscular training, sport-specific modalities, Pilates, nutrition, functional testing, and more. We understand that true wellness extends beyond the alleviation of pain, aiming to address the root causes of your discomfort for long-lasting results.
➡ Personalized Care
Cookie-cutter treatments don't cut it at Back 2 Normal. Our team takes the time to get to know you, your history, and your specific goals. This personalized approach ensures that each patient receives a unique treatment plan tailored to their individual needs. No two people are alike, and at Back 2 Normal we recognize this.
➡ A Focus on Education
At Back 2 Normal, you'll find more than just treatment; you'll find education. We're passionate about equipping our patients with the knowledge and tools to take charge of their health. Expect informative discussions, instructional sessions, and a wealth of resources to enhance your understanding of your body and its processes.
➡ Cutting-Edge Technology
Back 2 Normal prides itself on staying ahead of the curve when it comes to the latest technological advancements in the field of physical therapy. Our state-of-the-art equipment and innovative treatment techniques ensure you receive the best care available. Our commitment to staying at the forefront of technology ensures that you receive top-tier treatments and therapies.

➡ A Supportive Community 
The welcoming and supportive environment at Back 2 Normal fosters a sense of community among patients. It's not just a place for healing; it's a place for sharing experiences, encouragement, and motivation. You'll feel like part of a family dedicated to your well-being.

➡ In-House Team of Experts
Back 2 Normal boasts a team of experts in various fields of whole body healing, such as physical therapy, vestibular therapy, sports training, Pilates, nervous system optimization, and functional nutrition. Having comprehensive expertise under one roof ensures seamless communication and collaboration, leading to a more effective and efficient treatment plan.

➡ Focus on Prevention
At Back 2 Normal, the emphasis isn't solely on treating existing issues; we're equally dedicated to preventing future imbalances, injuries, and ailments. We work with you to establish preventive strategies to keep you feeling your best.
Back 2 Normal Physical Therapy isn't your typical physical therapy studio; it's a game-changer in the industry. With a holistic approach, personalized care, an educational focus, cutting-edge technology, a supportive community, and a team of experts, we're redefining what physical therapy can and should be. If you're seeking a comprehensive approach to your physical well-being, Back 2 Normal is the place to be.
Are you ready to reclaim your optimal health, live up to your potential, and feel incredible every day? Seek advisement with our specialists, and let us guide you with the most effective practices for your unique needs! We offer a wellness-focused & supportive environment that can help you achieve your goals. Be sure to check our social media and blog updates for regular wellness inspiration, information, offers, and support.
The Back 2 Normal blog is an educational resource written by Back 2 Normal employees and professional associates. Back 2 Normal bloggers are professionals who abide by the code of ethics outlined by their respective professional associations. The content published in blog posts represents the opinion of the individual author based on their expertise and experience. The content provided in this blog is for informational purposes only, does not constitute medical advice and should not be relied on for making personal health decisions.