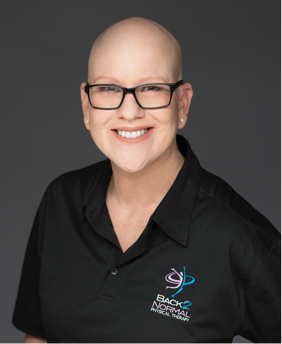 Kirsten Snellenburg
LMT, MPT, DPT, Physical Therapist, Vestibular and Visceral Specialist
Kirsten joined Back 2 Normal in March 2017. Kirsten is a Licensed Physical Therapist with over 19 years of experience, earning her Doctorate in Physical Therapy from the University of St. Augustine in 2008. Prior to earning her Doctorate, she completed her Master's Degree in Physical Therapy from Nova Southeastern University. She also holds her undergraduate degree in Business Administration from Eckerd College, and is a licensed Massage Therapist through the Humanity School of Massage since 1996.
Kirsten finds great satisfaction in working with patients that suffer with life-altering conditions, to help them get back to enjoying life and all it has to offer. Kirsten's goal is to develop productive relationships with patients by emphasizing quality care that addresses individual needs and specific goals for recovery, and assists patients in obtaining their optimal level of function. An educator at heart, Kirsten holds many trainings throughout the medical community to explain how physical therapy can assist in eliminating the issues she addresses daily.
Kirsten's vast clinical experience in Orthopedic Outpatient Physical Therapy empowers  her to address pre and post operative injuries, spinal manipulations, as well as implement extensive manual therapies. Having previously owned an outpatient physical therapy clinic for over 10 years, she is very well-known amongst therapists and physicians because of her excellent reputation and skills in Manual Therapy, Visceral Manipulation, Pelvic Floor Dysfunction, Vestibular Dysfunction, and Temporomandibular Dysfunction (TMJ).
She is a full time faculty member at St. Petersburg College, where she instructs upcoming physical therapist assistants. She also conducts several Continuing Education Courses for Massage Therapists on Sports Massage, Cervical Headache, Thoracic Outlet Syndrome, TMJ, Carpal Tunnel Syndrome, Ultrasound, and other Soft Tissue Dysfunction. She is a contributing author for the textbook, "Sports Injury and Rehabilitation," and looks forward to wearing her "author" hat again in the future. Kirsten is also a member of The International Association of Healthcare Practitioners, a professional network of more than 100,000 therapists who have taken continuing-education classes from IAHE and its affiliates. See her listing here. Kirsten brings the gifts of acknowledgment of one's circumstances, joy, gratitude, loyalty, and service.