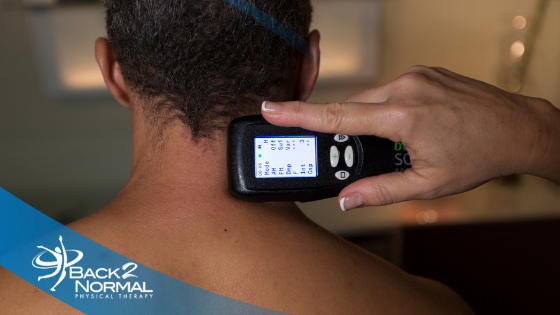 As a physical therapist, I am always looking for quick and easy solutions to help our patients heal, get out of pain, and return to the activities they love.  At Back 2 Normal, we want to empower your body to heal and promote a self-care approach to speed recovery, prevent recurrences, and enhance overall well-being.  Whether it's through innovative therapies or products you can take home to achieve optimal health and performance, we've got you covered.
With over 30 years of clinical experience, I have found that using a holistic, whole-body approach by applying advanced technology, osteopathic manual therapy, and functional integration brings the most effective results. But it's not just about having access to these technologies, it is more about how they are used with a comprehensive and team approach.  We don't just apply one of our technologies to a painful area of the body. Instead, we evaluate and find the true cause of injury and pain, then address faulty mechanics and target tissues that are contributing to the pain or loss of function.  For example, if someone comes in with knee pain, we will first address the mechanics from the spine down to the foot and use Astym Regenerative Therapy to address soft tissue restrictions through the entire lower body kinetic chain. Within the same session, we may incorporate our Neubie Technology to identify the origin of pain and reset compromised nerve signaling so the body can move without compensations.  Before the client leaves, we will teach them valuable home strategies through unique products and home exercises to help them sustain their results and prevent recurrences. Over subsequent sessions, we may incorporate Pilates, massage, and even nutritional support to maximize healing and optimize outcomes.
If you are looking for game-changers to speed your healing and recovery, look no further than these therapeutic technologies and treatments:
Astym Regenerative Therapy uses the skilled application of instruments to regenerate damaged tissues and resolve the underlying source of pain.
Trigger Point Dry Needling is a procedure in which a solid filament needle is inserted into a myofascial trigger point, resulting in relaxation of the muscle, decreased pain, and restored function.
Cupping Therapy is a technique used to increase blood flow and mobilize tissues to help increase range of motion and decrease pain.
NeuFit Therapy helps identify and treat the origin of pain and resets compromised nerve signaling to help the body move without compensations, improve performance, and speed recovery.
Deep Tissue Laser Therapy energizes damaged cells to speed the body's natural healing process to reduce inflammation and eliminate pain.
SCENAR Therapy communicates with the nervous system to enable the natural healing mechanisms in the body to optimize health and eliminate pain.
BEMER Therapy delivers a unique impulse to help activate the self-healing mechanisms of the body, improve circulation, and optimize function of the body.
BertecTM COBALT is a balance system for athletes and individuals suffering from concussion, vestibular and balance dysfunction.
NormaTec Compression Therapy uses compressed air to massage legs to reduce muscle soreness, improve circulation, flush toxins, and speed recovery.
Percussion Technology helps relieve muscle soreness, improves range of motion, promotes circulation, and accelerates warm-up and recovery.
Whether you are in pain or just looking to improve your overall well-being or performance, our team of health and performance advocates is here to accelerate your journey and get you back to the activities you love.
Contact us for more information or to book your next appointment today!
Contributing Author: Lisa Chase, PT, CFMM, OMPT, Astym Certified
The Back 2 Normal blog is an educational resource written by Back 2 Normal employees and professional associates. Back 2 Normal bloggers are professionals who abide by the code of ethics outlined by their respective professional associations. The content published in blog posts represents the opinion of the individual author based on their expertise and experience. The content provided in this blog is for informational purposes only, does not constitute medical advice and should not be relied on for making personal health decisions.