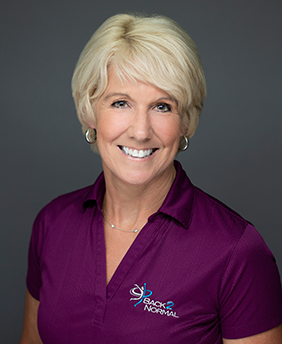 Tracey McFarlane
MPT, DPT, Astym Certified, Physical Therapist, Vestibular/Balance Specialist
Tracey joined Back 2 Normal in May 2021 as a physical therapist. Tracey earned her master's in physical therapy degree from the University of Central Florida in 2002. Because she was interested in educating future physical therapists, she went on to earn her Doctor of Physical Therapy degree in 2010 from Nova Southeastern University, allowing her to teach at that level for the University of Central Florida. Tracey's passion has been orthopedics, sports medicine, vestibular rehabilitation, and women's health.
Tracey initially became interested in the field of physical therapy after having to undergo treatment as a college swimmer at the University of Texas. Since initial attempts by the athletic trainer failed to get her back to her sport, a physical therapist intervened and was able to get her to her pre-injury status. She went on to win 13 NCAA titles over her 4 years at Texas and earned a spot on the 1988 US Olympic Team, taking home a Silver Medal.
Because of her experiences with her own injuries, Tracey takes a whole-body approach with her patients, focusing on the cause of the dysfunction rather than the symptoms. This helps her patients heal faster and have a better understanding of their condition. Tracey has been fortunate enough to work with professional and college athletes in football, baseball, softball, basketball, swimming, tennis, and golf. She is thrilled to become the newest member of the Back 2 Normal team where she can continue to grow as a therapist! Tracey brings the gifts of empathy, caring, and encouragement for every client's ultimate healing.