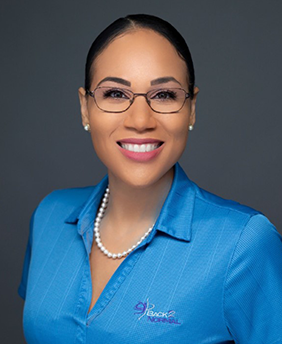 Lia Hibbert, MSc., MBA in HRM, CHSO
HR and Compliance Business Partner
Lia worked for Back 2 Normal Physical Therapy (2017-2019) in the capacity of Talent Acquisition and Compliance Officer and has returned to B2N as a Personnel and Business Administration Consultant providing services in personnel management, oversight of compliance, and organizational development and strategy.
Lia is a proponent of living for impact, and she believes that mission begins with the individual and community—a strong life lesson learned as being the daughter of a remarkably diverse Caribbean Society. Lia volunteers as a member of the US Virgin Islands Domestic Violence and Sexual Assault Council and is the founder of the Jeanette Ann Magras (JAM) Fund which seeks to provide financial support to domestic violence victims. Lia is also a founding, active member and is currently vying for a board position for the first US/British Virgin Islands SHRM Affiliate Chapter. Lia also volunteers her time providing HR services to the USVI Judiciary's Human Resources Department and to a local company—Magras Cleaners, LLC.
Lia is married, lives in St. Thomas, US Virgin Islands, has a fourteen-year-old son named Jayden and a five-year-old Shih Tzu named Cupid. She enjoys reading mystery and suspense and enlightenment books as well as the Harvard Business Review. She loves learning, creating impact, walking, meditating, spiritual healing activities, listening to podcasts, cooking/baking, and traveling. Lia brings the gifts of empathy, organization, and follow-through with intentional and purposeful servant leadership.