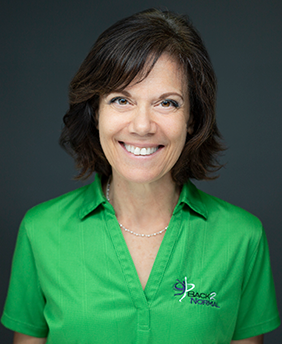 Anne-Marie Belott, MSPT, has been a practicing Physical Therapist in Virginia and Florida for over 30 years, earning undergraduate degrees in Physical Therapy and Biology, and a Master's of Physical Therapy degree, all from Barry University. Her background is in outpatient orthopedics, sports medicine, vestibular rehabilitation, women's health: pre/post-partum care and pelvic health, temporomandibular dysfunction and headache.
Anne-Marie employs an individualized, holistic approach to patient care, utilizing varied manual techniques coupled with therapeutic exercise and patient education to treat movement dysfunction and pain. She is a Pilates and aquatics instructor, further enforcing her movement philosophy to restore and maintain wellness.
Anne-Marie is grateful to have had a varied and rewarding career in a healing profession, enabling people from all walks of life to improve their quality of life. She is experienced and passionate about physical therapy and has had the opportunity to work with professional athletes in football, baseball, tennis and dance companies. She is excited about joining the Back 2 Normal team!